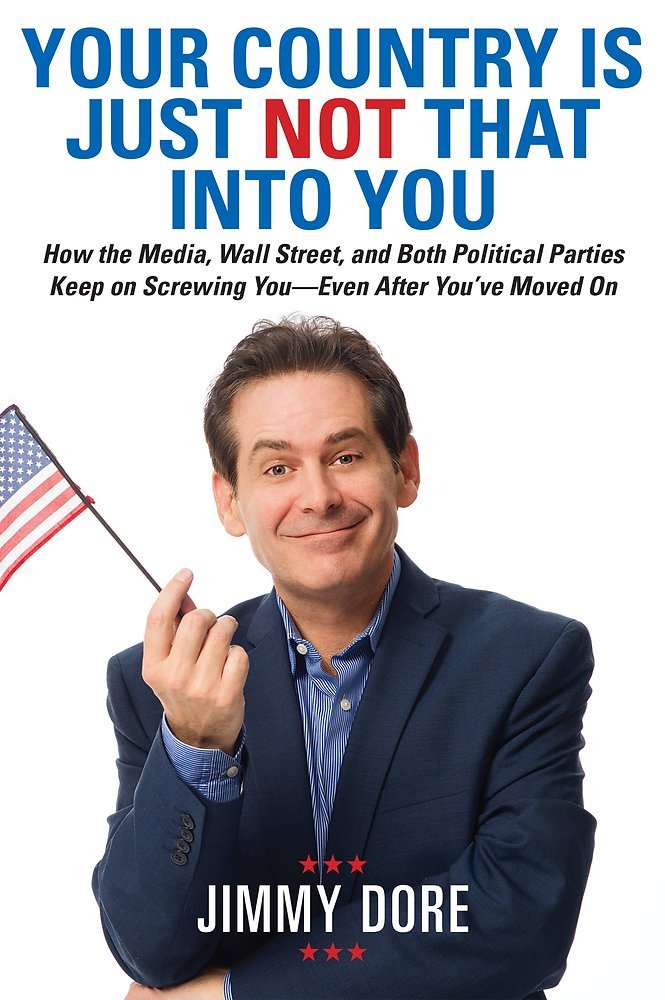 Your Country Is Just Not That Into You: How the Media, Wall Street, and Both Political Parties Keep on Screwing You-Even After You've Moved On Paperback
By Jimmy Dore |

122 customer reviews
$15
In Stock | FREE Shipping
Ships/Sold directly from Jimmy
---
Description
Why is your brother-in-law concerned about the Estate Tax? Why do millionaire news reporters get everything wrong? Why are blood-sucking teachers bankrupting America?
Jimmy Dore, the comedy darling of America's Progressive Left, answers all these questions and more! In this laugh-out-loud collection of essays that are both street-smart and informed, Jimmy sets out to discover what's wrong. Crackling with caustic wit and insight, no aspect of American life is safe from Jimmy's hilarious scrutiny. He gets to the heart of the issues: why Republicans should support gay marriage or why the President shouldn't have Secret Security until the country has gun control, bringing clarity and hilarity to the incoherent noise of our punditocracy.
This outrageously entertaining manifesto is an excellent resource for those who have survived long arguments during family dinners. And in a media environment dominated by corporate interests, Jimmy's take-no-prisoners approach is fearless: going after both political parties, and all corners of mainstream news. A David against an army of Goliaths. Equal measures of silliness and spleen-venting, Your Country Is Just Not That Into You is the most oddly uplifting political book of the year.
---
Editorial Reviews
"Jimmy Dore is: outrageous and outraged, bothersome and bothered, and a crucial, profane, passionate voice for progressives and free-thinkers in 21st century America. This book will anger you if you're a conservative and enrage you if you're a liberal. Enjoy!"
—Patton Oswalt
"Jimmy has written a book with a very funny title. It turns out there are thousands of funny things in the book too! And the end is inspirational (go on, leaf ahead, I'll wait)…See, I told you. Now buy it."
—Ben Mankiewicz, host of Turner Classic Movies
"If you're interested in laughing, you're interested in Jimmy Dore. You know what this country needs? It needs to read more from Jimmy Dore. What makes Jimmy really funny is his honesty. The whole book rings true because it is true."
—Cenk Uygar, host of The Young Turks, the "world's largest online news show" 
"Jimmy Dore is one of the the funniest human beings I've ever met. I'm a huge fan of his stand up, podcast, and ping pong serve. I love his new book. It made me laugh and it makes sense."
—Bill Burr, comedian
---
Top Customer Reviews

Brilliantly funny and thought-provoking
Brilliantly funny and thought-provoking, Jimmy Dore puts it all out there. I sincerely hope all of my liberal friends read this. I will demand that my friends who THINK they are conservatives read it, too: they'll realize that, as decent, compassionate people, they cannot actually support the conservative politicians and pundits.

King of news satire
First off, Jimmy's podcast 'the Jimmy Dore Show' is fantastic. It's that same humor, outrage and ability to get straight to the hypocrisies that make this book work. I would highly recommend listening to at least one podcast before reading the book, just to get Jimmy and Company's tone and humor style. And listening to an actual phone call bit from the disgraced political figure of the week will make reading the bit in the book that much more enjoyable.

Just like listening to the podcast…and that's a good thing
I am a premium subscriber to Jimmy's podcast and the highest praise I can give the book is that it is just like listening to the podcast. When you read the phone-call transcriptions, you can hear Mike McRae's voice, I detected some Jim Earl-isms (Fun fact : Our lord and savior has a pet mongoose named "Sidney"), You will scream "O My God" in Robert Yasamura's voice as Jimmy dissects the modern conservative movement. If you do not recognize these names, you should subscribe to Jimmy's podcast now and get acquainted with them. This is my first review for Amazon and I am far from eloquent but, take my word for it, if you are an unapologetic liberal (and you SHOULD be), this book is well worth the time.
---
About the Author
Jimmy Dore's Comedy Central special Citizen Jimmy was voted Best of the Year by iTunes and one of 2009's Top 5 Comedy DVDs by Punchline magazine. He is currently the host of The Jimmy Dore Show, which originates from KPFK Los Angeles and is heard nationwide on the Pacifica Radio Network and broadcast on the YouTube channel tytnetwork.com. He has been featured on Comedy Central Presents and has appeared on The Jimmy Kimmel Show, The Late Late Show with Craig Ferguson, and NBC's Last Comic Standing. Follow him on twitter: @Jimmy_Dore
Product Details
Paperback: 288 pages
Publisher: Running Press Adult (July 8, 2014)
Language: English
ISBN-10: 0762453516
ISBN-13: 978-0762453511
Product Dimensions: 6 x 0.8 x 9 inches
Average Customer Review: 122 customer reviews
Amazon Best Sellers Rank:

#84

 in Political Parties (Books)

#114

 in Political Humor (Books)

#123

 in Business & Professional Humor
Read the book?  Share your thoughts in the comments below.  We'd love to hear what you think!